Here's another review that I wrote during busy season. Looking back we should have enjoyed that success in mid-coast Oregon a bit more. We had a bit of luck on the north coast in Oregon, but we struck out on the Olympic Peninsula! Enjoy!
So we have moved on from Pyramid Lake and are now steelheading for a month. Yes, we have dedicated a whole month to one fish. But steelhead are tough. Not only do you have to use the right flies at the right depth in the right spot, you also have to hope that there are fish there. There are a ton of factors, time of year, how much rain the river system has had to date, how much rain has fallen recently, how high the water is currently, how clear the water is, etc….
It is a tough game but we are trying to figure it out. Our first stop was in Medford, OR on the Rogue River. We stopped there mainly because Aimee was scheduled to give another talk about wolves in Medford, since we had to stop anyway we figured why not try to catch some steelies. This was a case of the water being too high and being there at the wrong time of year.
We were early for winters and late for summers and the river was huge!! We gave it a good college try, both swinging and nymphing flies each day for a couple hours, but in the end we only caught a couple trout. So, week one: 0 steelhead. It was a bummer, but not unexpected.
Next we headed to the mid Oregon coast, aiming for rivers that I had fished before during my time in Eugene. The levels were low, but fishable. The only issue was that since they hadn't had rain recently there weren't many new fish coming in, the chrome would have to wait.
The river we were fishing was perfect nymphing water and we hit it hard from the get go, this time we had way more success and both had a fish to the net in the first three days! Hopefully we will be able to recreate this success as we move north towards the Olympic Peninsula, fishing as we go.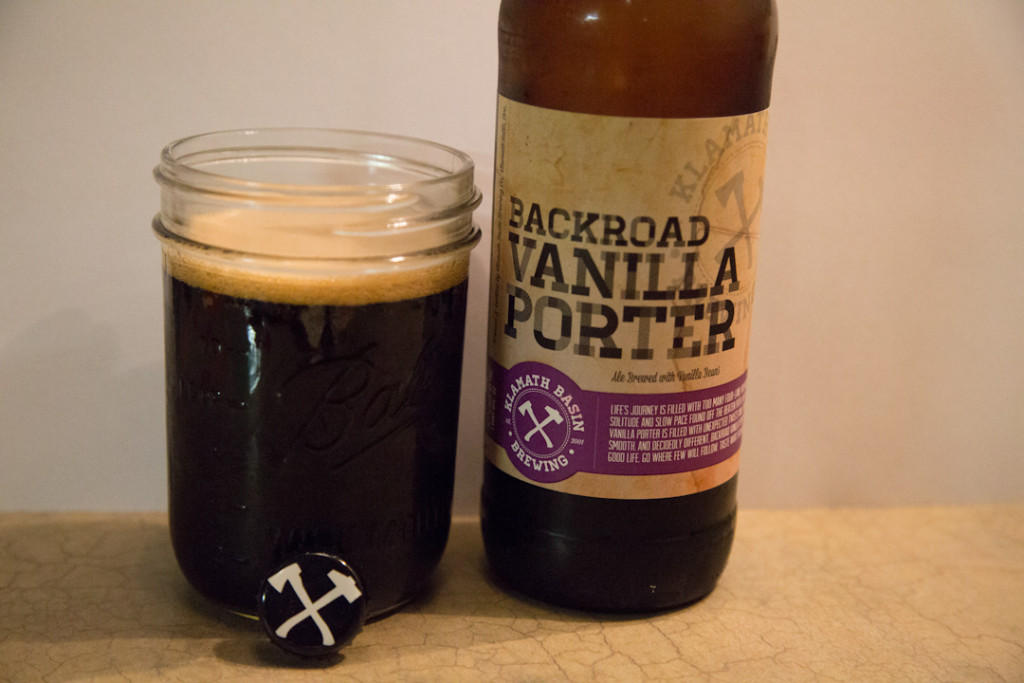 Appearance: A Very dark clear brown. Bubbly tan head that receded fairly quickly.
Smell: Vanilla!
Taste/Mouthfeel: Smooth with lots of smoky vanilla just before a slight coffee finish. Thick and chewy, like a slightly beery vanilla milkshake. No hops or bitterness to speak of. Can taste a bit of booze, but not enough to be off putting at all.
Overall: Good! Aimee got this for me before we left the Medford area, I wanted a Wild River beer to try, but hadn't had time to pick anything up and she surprised me with this porter. I like it! Real nice with a steak and salad after catching my first steelhead of the trip!
Stats:
ABV: 6.7%
IBU: 45
Brewery:
Klamath Basin Brewing
, Klamath, OR